HISEIDO FWB Fullmake Washable Base Makeup Primer
Out of stock
● Beautifully applied make-up, removed at night with hot water! Veil action functional primer. Simply use it as a make-up base in the morning and apply your make-up as usual. At night, lift the veil with hot water and it's ready to be removed
● Full range of primer functions
・ Better results with foundation, lipstick and other make-up
– Slightly corrects unevenness on the skin. Finishes make-up beautifully.
● Moisturizes and protects the skin from dryness. Contains hyaluronic acid (moisturising)
● Light touch, smooth application on the skin. Designed to be fragrance-free for use on the lips. Allergy tested * Not all people are allergic.
● Primer / Lipstick Primer
Out of stock
Updates to the fully made washable base, packaging and contents are subject to change without notice. Please note.
Product Category: Cosmetics
【All
Makeup Washable Base Product Details] ● Beautifully applied make-up, removed at night with hot water! Veil action functional primer. Simply use it as a make-up base in the morning and apply your make-up as usual. At night, lift the veil with hot water and it's ready to be removed
● Full range of primer functions
・ Better results with foundation, lipstick and other make-up
– Slightly corrects unevenness on the skin. Finishes make-up beautifully.
● Moisturizes and protects the skin from dryness. Contains hyaluronic acid (moisturising)
● Light touch, smooth application on the skin. Designed to be fragrance-free for use on the lips. Allergy tested * Not all people are allergic.
● Primer / Lipstick Primer
[How to use]
・Daytime: Treatment lotion/emulsion → sunscreen/daytime beauty lotion → full make-up washable primer → foundation and spot make-up
・Nighttime: Apply makeup water with hot water → Rinse with hot water → Wash face with cleanser → Use for nighttime care such as lotion, emulsion
・At the end of morning care, before foundation and lipstick
・Apply 2 pearls evenly over the entire face.
* A small amount is effective when applied to the cheeks, eyes, eyelids, chin, nose and jaw.
* May be difficult to remove if the amount is small or the coating is uneven.
・ To remove make-up, apply hot water to the skin and then gently stroke to wash off the make-up. Then wash your face with a cleanser.
【Ingredients
Water, dimethicone, DPG, ethanol, (methyl methacrylate/methacrylic acid (PEG-4/PPG-3)) crosspolymer, vinyl acetate, sculose stearate, sculose stearate, batyl alcohol, polysorbate 60, sodium hyaluronate, microcrystalline wax, dehydrated sorbitan, polyvinyl alcohol, bentonite, glycerin, EDTA-3Na, dimethicone oil, (sodium isobutene/laurelene) copolymer, alumina, tocopherol, phenoxyethanol, sodium dehydroacetate, titanium oxide, iron oxide
[Note]
– Waterproof eyeliners, foundations, etc. may be difficult to remove with hot water alone. In such cases, use a special cleaner.
・Do not leave in the sun or under high temperature.
・Wipe the mouth of the container and close the lid properly.
・Makeup may come off if rubbed when sweating.
・Even waterproof make-up may crumble more easily than usual.
-If the product is not used for a long time, it may appear clear and liquid at first, but the quality and effect is fine.
・Do not use on areas with cuts, swelling, eczema, rashes, sores, abnormal pigmentation, etc. If abnormalities such as redness, swelling, itching or irritation occur, stop using it. If you continue to use it, it may worsen.
・ Be careful not to get it in your eyes. If it gets in, rinse immediately with cold or lukewarm water.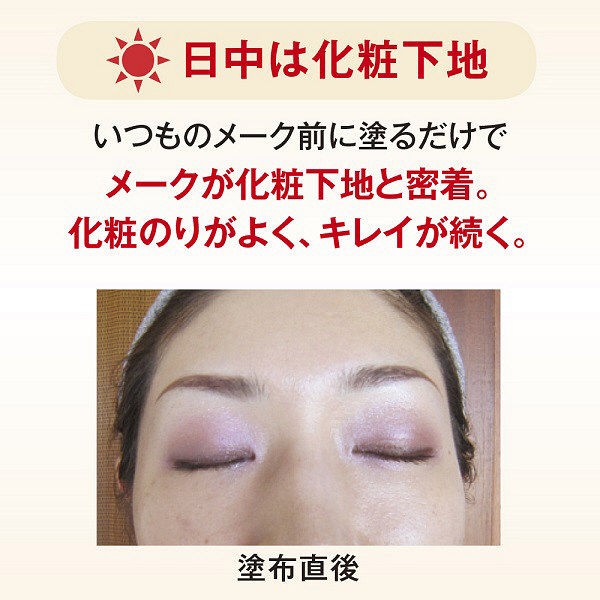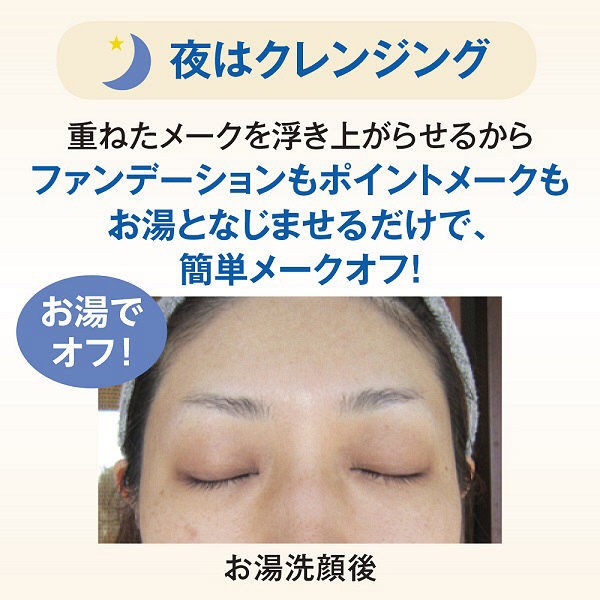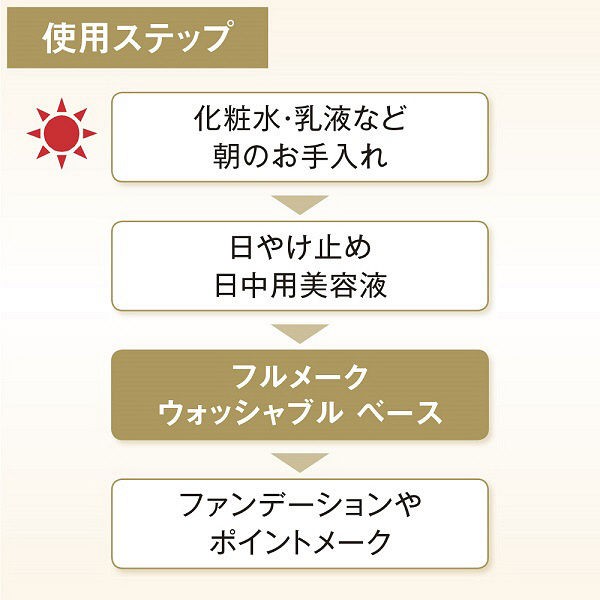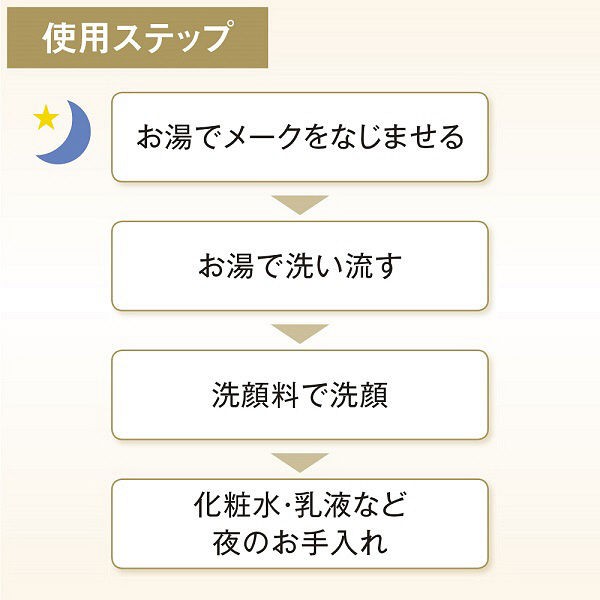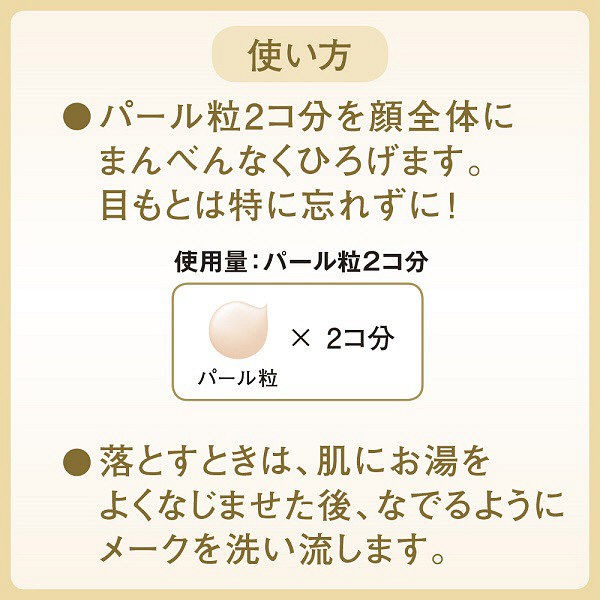 全制作可水洗底座的更新,包装和内容如有更改,恕不另行通知。请注意。
产品类别:化妆品
【全
彩妆可洗底液产品详情】● 妆容精美,晚上用热水卸妆!面纱动作功能底妆。早上只需将它用作化妆基础,然后像往常一样化妆。到了晚上,用热水掀开面纱,就可以卸掉了
● 全面的底妆功能
・ 粉底、口红等彩妆效果更佳。
– 稍微修正皮肤上的不均匀。妆容完成得很漂亮。
● 滋润和保护皮肤免受干燥。含有透明质酸(保湿)
● 轻柔的触感,在肌肤上顺滑涂抹。设计为不含香料,可用于唇部。过敏测试 * 并非所有人都过敏。
●底妆/口红底妆
[使用方法]
・白天:护理乳液/乳液→防晒/日间美容液→全妆可水洗底液→粉底和点妆
・夜间:用热水上妆水→用热水冲洗→用洗面奶洗脸→用于乳液、乳液等晚间护理
、早晨护理结束时、粉底和口红之前。
・ 将 2 颗珍珠粒均匀涂抹于整个面部。
* 少量涂抹在脸颊、眼睛、眼睑、下巴、鼻子和下巴上很有效。
* 如果用量少或涂层不均匀,可能难以去除。
・ 卸妆时,先用热水抹在皮肤上,然后轻抚洗掉彩妆。然后用洗面奶洗脸。
【成分】
水、聚二甲基硅氧烷、DPG、乙醇、(甲基丙烯酸甲酯/甲基丙烯酸(PEG-4/PPG-3))交联聚合物、醋酸乙烯酯、sculose硬脂酸酯、sculose硬脂酸酯、batyl醇、聚山梨醇酯60、透明质酸钠、微晶蜡、脱水山梨糖醇酐、聚乙烯醇、膨润土、甘油、EDTA-3Na、二甲基硅油、(异丁烯/月桂烯钠)共聚物、氧化铝、生育酚、苯氧乙醇、脱氢乙酸钠、氧化钛、氧化铁
[注意]
· 防水眼线笔、粉底等可能仅用热水难以去除。在这种情况下,请使用专用清洁剂。
・请勿放置在阳光下或高温下。
・ 擦拭容器口并正确盖上盖子。
・如果在出汗时揉搓,可能会掉妆。
・即使是防水型彩妆,也可能比平时更容易塌陷。
-如果长时间不使用产品,开始时可能会出现透明液体,但质量和效果没有问题。
・请勿用于有伤口、肿胀、湿疹、皮疹、疮、色素异常等症状的部位。如果出现红、肿、痒、刺激等异常情况,请停止使用。如果你继续使用它,它可能会恶化。
・ 注意不要弄到眼睛里。如果它进入,立即用冷水或温水冲洗。